Design
Structural Design, Inspections and Certifications (by Dincel or other Engineers) for new and alternate civil solutions.
Supply
Supply only of Dincel component (for projects already engineered). Site Supervision packages for initial orders.
Install
Supply & Installation civil/infrastructure packages (for projects already engineered) including supply of all structural components, equipment & site labour components.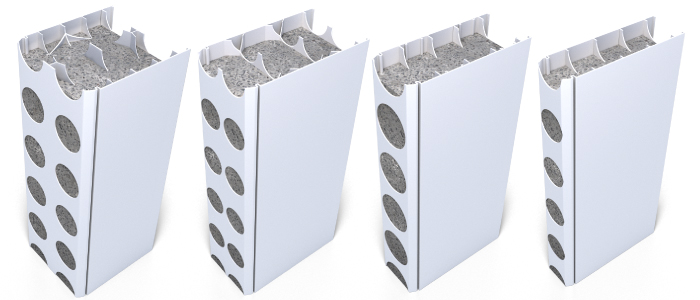 Dincel profile walls can replace a number of different wall types such as brick/block walls, Autoclaved Aerated Concrete (AAC), precast/tilt up and in situ concrete walls.
The Dincel Wall Advantage
Cheaper & Stronger
Dincel permanent formwork achieves greater concrete strength by minimising moisture loss throughout the curing process. The polymer skin also prevents moisture from entering the wall and therefore reduces the chance of corrosion to steel reinforcement and concrete cancer. In addition, Dincel walls can be designed to contain less steel reinforcement than conventional concrete walls, resulting in less material, labour and waste. These can all be translated to real financial savings.
Faster & Easier
Dincel Structural Walls consist of an internationally patented snap lock joint which connects the Dincel panels for fast and easy installation. Dincel panels allow for greater safety and manoeuvrability on-site. Dincel is lightweight, making it easy for one man to carry the product across a construction site if needed. Dincel panels can be installed relatively quickly, with two men being able to comfortably install 25m² of panels per hour.
Dincel can be used in a wide range of civil applications including, but not limited to, road and infrastructure, tunnels and stations, culverts and water supply/sewerage infrastructure. For more information on how Dincel can be used in your next project, click on one of the applications below.
Resources
Dincel Civil Solutions has a comprehensive resource centre providing information on civil and infrastructure applications. These tools cover information such as technical manuals, install guides, specification and brochures.
For further information call us on 1300 DINCEL.